Cube SGC unlocks the data to digitise electricity networks
Cube SGC – White Paper
Jon Mann – Fundamentals Ltd.
This paper explores the potential of Fundamentals' Cube SGC (Smart Grid Controller) data and communications module to facilitate the digitisation of electricity networks, as part of a solution which uses the cloud as a unifying data platform and deploys advanced software analytics to deliver actionable management information.
DNOs are increasingly aware that they need to adapt to a rapidly changing electricity landscape. The transmission and distribution grid designed in the 1950s for centralised generation, delivering predictable power to passive consumers, is being supplanted by new and much more complex patterns of supply and demand.
Distributed and intermittent renewables, electric vehicles, the electrification of home heating and the growth of energy storage are among the many factors that are having a growing impact on the grid. Wholesale reinforcement and rebuilding of the existing T&D infrastructure is not an option. Operators need to make their networks smarter. And for that they need data about their assets, in a form they can use to take action.
The need for actionable data presents three challenges:
Many operators currently have limited visibility of the overall state of their networks, and the health and performance of individual assets. That is because many assets are dumb, lacking any capacity to collect and communicate data about how they are performing. Those that do have data and/or communications capability are typically running on a variety of legacy systems, which may be incompatible with one another.
Existing assets need to be equipped so that data can be gathered from them and communicated to control centres in a common, usable form – and via a platform that is accessible securely. This is needed to overcome the limitations of legacy systems, where data may be localized and/or difficult to access and use as actionable information.
Raw data needs to be analysed and turned into outputs which deliver understandable management information about every aspect of the network's performance. This can then be used to take intelligence-based decisions on everything from balancing supply and demand to voltage optimisation, maintenance interventions and capital investment planning.
As mentioned above, the problem of data gathering is that existing networks typically have a combination of dumb assets and those which are connected in several ways, with a range of often incompatible communications protocols, digital and analogue signals. Fundamentals has addressed this issue with the development of the Cube SGC (Smart Grid Controller), together with a cloud-based data platform and software which can transform data from existing systems into a common language.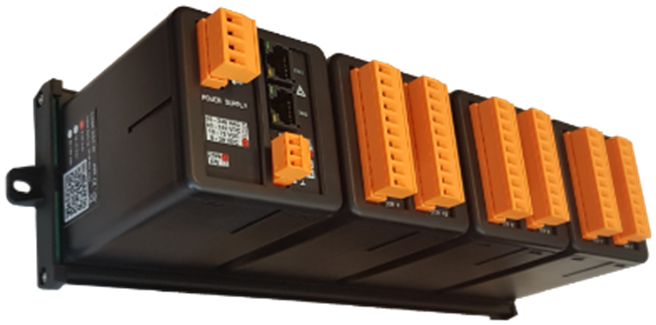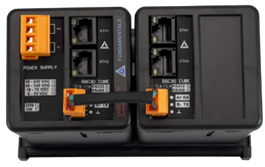 The Cube SGC (above) is a data-gathering and communications module which can be retrofitted to virtually any network asset. Its modularity means it is easy to install – and its flexibility means it can be tailored to the needs of each operator. It can be configured with from 1 to 4 cells, with 2 modules per cell. Any network asset which produces a signal can be connected to a Cube SGC with a standard I/O card, whether the inputs are digital or analogue. Supported data protocols include Modbus (TCP and serial), IEC 60870-5-101/103/104, DNP3, IEC 61850.
The effect of installing Cube SGCs is that every asset on which it is fitted becomes fully data and communications enabled, with data gathered and translated into a common format.
The Cube SGC can use the cloud as its data platform. Problem is, cloud systems were not designed to speak SCADA protocols, which are commonly used in legacy grid data systems. Fundamentals has addressed this issue by equipping Cube SGCs with the ability to translate data into cloud-compatible JavaScript Object Notation (JSON) format – a native web data format, used by nearly every website.
The Cube SGC use MQTT (MQ Telemetry Transport) to transport JSON to the cloud because it is a popular and highly resource-efficient standard, which is widely used as the basis for the Internet of Things (IoT) – in which virtually all assets are part of a data-enabled network. The net result is that the Cube SGC can communicate data in configurable JSON formats, which are readily understandable by existing data systems.
An additional benefit of Cube SGC is that it includes triggering logic, so data can be transmitted on demand or when events occur, rather than periodically. This saves on overheads and costs.
TURNING DATA INTO MANAGEMENT INFORMATION
Using a custom embedded Linux operating system, the Cube SGC's Application Data Hub (ADH) software platform can use various communication protocols and I/O modules, in conjunction with an integrated programmable logic controller, to provide wide ranging communication and automation solutions. Data can be communicated and processed locally and/or linked to central management systems. An optional data diode allows one-way communication for data collection only.
The ADH software provides a user-friendly graphical interface. A simple mapping interface enables the user to configure the platform as required, including the ability to increase or reduce the number of network assets being monitored, and link to local or centralised control systems.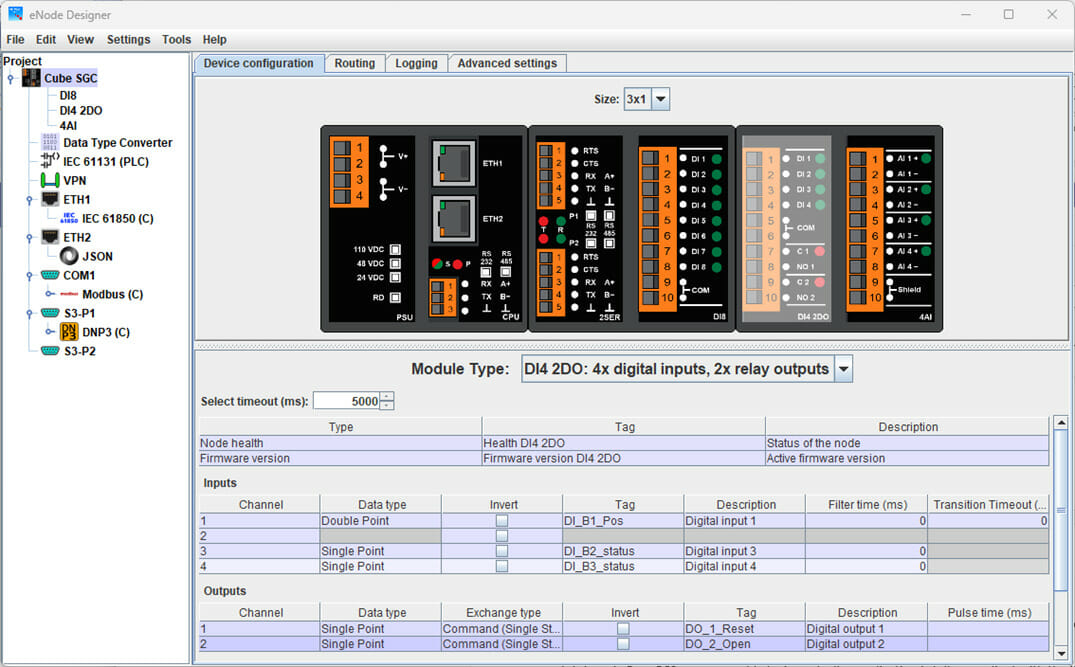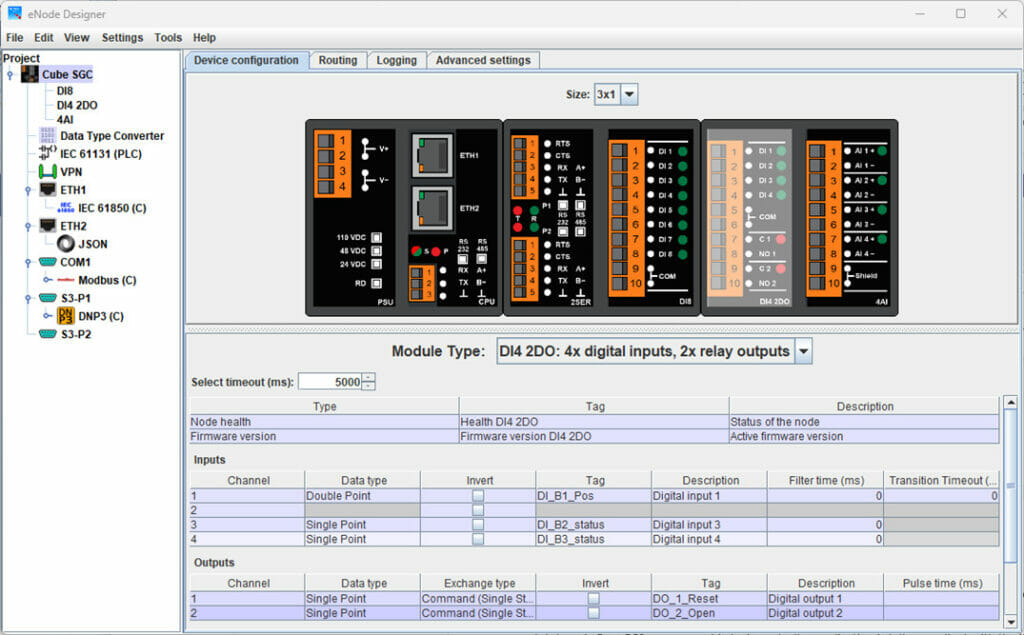 Cube SGCs can be configured for anything from simple data gathering and communication, to being the core platform for an IoT (internet of things) network.
Infoteam's OpenPCS programmable logic controller application is fully compliant with the IEC 61131 standard, with all five programming languages, and can be integrated as an option.
STANDARD COMMUNICATION FEATURES
Two configurable Ethernet ports provide a powerful network connectivity platform. Configuration options are:
2 x Independent Ethernet ports with independent MACs
HSR (High Available Seamless Redundancy) Ethernet Ring
PRP (Parallel Redundant Protocol) Ethernet configuration
For local IED integration, one (1) electrically isolated RS232 or RS485 communication port is provided.
The Cube SGC is available in sizes up to 4 cells, each cell supporting 2 module cards, making 8 available slots per Cube. Other than the power supply and processor boards, the following cards are available:
8 Digital inputs
4 digital inputs and 2 relay outputs
4 relay outputs (1 change over)
4 analog inputs (DC current input ±20mA or DC voltage source ±11V)
2 Serial extension ports, which are independently selectable e.g., the user could have 2 RS-232 or 2 RS-485 or 1 of each
The ADH has integrated IEC 61131 compliant Infoteam SmartPLC application allows the user to develop their own automation logic.
Fundamentals' IEC 61850 ICD Designer tool can be used to make an ICD file and import it into eNode Designer. Any standard ICD/CID files can also be imported.
The Cube SGC is part of a fully integrated hardware and software platform that is flexible, simple to install and highly configurable. Its applications range from adding data communications to previously dumb assets, to integrating incompatible legacy communications systems, to delivering a platform for creating super-smart, highly automated, cloud-based networks that function as Internets of Things (IoTs). Above all, it overcomes the constraints of multiple communications protocols and unlocks the data operators need to digitise their networks fully and make them smarter.